We are on hiatus, suspending operations for the time being.
I am currently on hiatus. My wife and I are busy relocating to Montreux, Switzerland. I expect to be back in business by the end of 2020, or soon thereafter. Our address is presently undetermined and communications will be as frequent as I can. Any inquiries will eventually be answered. Orders are possible: shipping will always be at the going rate and determined with regard to distance & point of origin (Switzerland), value and handling of each parcel. Please inquire first. Best, Jeff Weber
Welcome to the home of Jeff Weber Rare Books
Please search and browse our inventory of books. Additionally check out our 
Current Catalogues
 tab for an online version of our print catalogues. The difference between our print and online catalogues is that our online catalogues are loaded with images of the books being offered for sale.
To learn more about fore-edge painting, please visit our
blog
.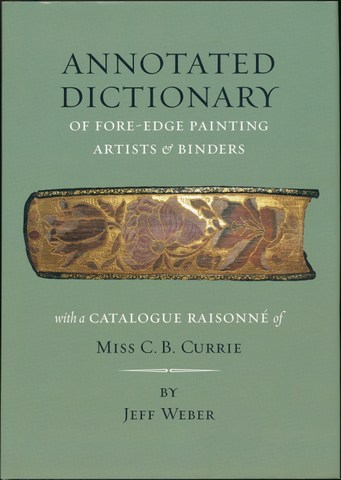 Our specialities are in Bibliography, California, Natural History, Science & Technology, Medicine, and Fore-Edge Painting. In fact, we are the authority on Fore-Edge Painting; To learn more about fore-edge painting, please visit our blog at
http://foreedgepaintings.wordpress.com/.
To order Jeff Weber's book, Annotated Dictionary of Fore-Edge Painting Artists & Binders with a Catalogue Raisonne of Miss C. B. Currie, simply click on the book image.
Thank you for visiting.